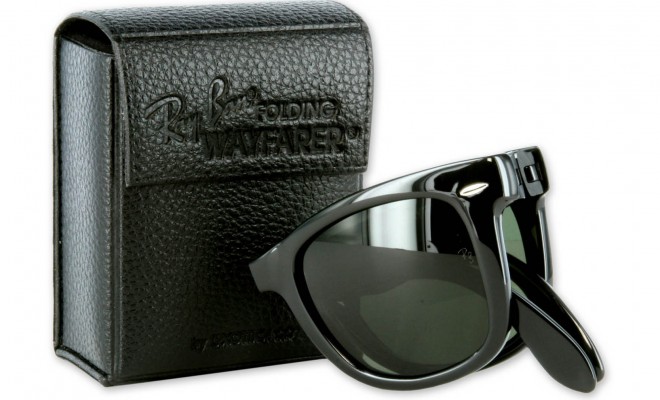 Posts
Solve Your Challenge with Folding Sunglasses
By
|
Solve Your Challenge with Folding Sunglasses
It's a challenge everyone has faced at one time or another.
You get up from the restaurant table and leave your sunnies behind, or you pull those sunnies from your purse to find something else, and when you set your sunglasses down, you forgot to pick them up again.
How many pairs of sunglasses have you left behind this way?
A full sized pair of sunglasses can be cumbersome, but imagine if those same sunglasses could take up half the space. They can, with folding sunglasses.
Folding eyewear has been a favorite among wears for more than a hundred years, but folding sunglasses really came into their own in the second half of the twentieth century as a result of work done by luxury eyewear designers.
Let's look at what a few of these designers offer in the way of folding sunglasses:
Ray Ban offers an extensive selection of folding Aviator and Wayfarer styles for the discerning wearer. You can find collapsible frames in luxurious Havana, black and even a stunning winter white.
Persol folding sunglasses are some of the most mechanically beautiful pieces of luxury eyewear available. Their 714 Series of sunglasses were some of the first collapsible sunglasses offered to consumers, and these sunglasses were beyond cool. They were Steve McQueen cool.
Oakley gives you functional folding eyewear that will withstand just about any adventure you can throw at it. Their tactical looking matte black sunglasses made of durable zyl are ready to go wherever you go, and they look stylish, too.
The nice thing about folding sunglasses is that you are less likely to lose them, whether your big adventure is scaling the Matterhorn or getting to the grocery store and back. That may seem to contradict what you know about your sunglasses; after all, you lose pairs of sunglasses that are twice the size of folding sunglasses.
Your compact sunglasses want to be folded, so you take the time to collapse them into their protective case, and you look cool doing it.
You are also less likely to scratch those folding sunglasses. Once you fold the frames at the center of the bridge and the temporal arms at their centers, the sunglasses collapse into a size small enough to put in its case. It's probably the act of properly putting away your sunglasses that keeps them safe – and with you.
The compact size of folding sunglasses fits nicely into your purse without taking up precious room, and they fit just as well into a pocket. Picking up these glasses and keeping them with you is as easy as picking up your wallet or your keys.