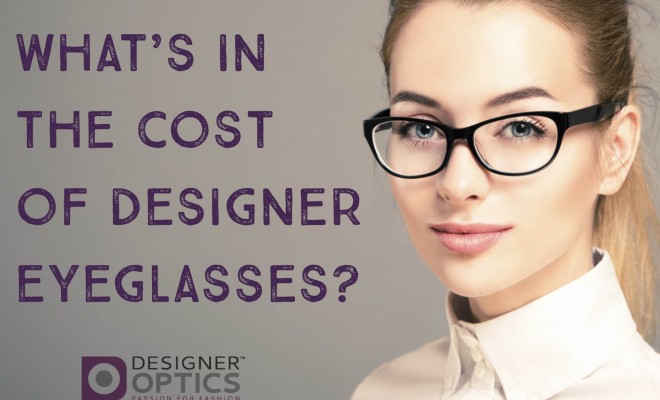 Posts
What's in the Cost of Designer Eyeglasses?
By
|
What's in the Cost of Designer Eyeglasses?
Does it seem to you like designer eyewear is ridiculously expensive? It doesn't have to be.
Fall in love with a special pair of designer frames, and you fall in love with a look that speaks volumes about who you really are. The right designer eyeglasses are your calling card because they are the first impression most people have when they see you.
It's true that those designer eyeglasses will cost a bit more than cheaper knock-off versions, but the authentic eyeglasses from any of your favorite designers are not only well-designed to speak to specific couture, but they also are made of quality materials. You are buying style and craftsmanship.
The metal frames are hypoallergenic titanium, aluminum or stainless steel, and newer alloys contain memory fibers. You can bend the metal and it bends back into shape. The plastics used in your designer frames are never molded and painted; instead, they are hand carved from cellulose acetate so the design and its color remains true for the life of your designer eyewear.
With designer eyeglasses, you get what you pay for.
Don't believe us?
Try this. Take two pairs of sunglasses outside – one, a cheap pair of sunglasses with no UV protection and a pair of designer sunglasses with UV protection (most all of these sunglasses come with UV protection). Try wearing each pair of sunglasses for a few minutes. Which feels better?
You likely will say that the designer sunglasses are the most comfortable because they do the best job in protecting your eyes. Your eyes will feel more shaded and protected, and the glare around you is not as prevalent when you wear designer sunglasses. You can see and feel the difference.
Once you save for the frames of your dreams, you also may be surprised to see how much the lenses add to the overall cost. Designer eyeglasses can become expensive quickly because the added cost of especially thin or multifocal lenses and special coatings can increase the overall cost of your coveted designer eyewear rather quickly.
Consider these things about going with designer eyewear:
The frames are made to rigorous standards; your eyewear will last longer.
You are making an investment in your vision, even if you do not need prescription lenses.
Designer eyewear does a better job of protecting your eyesight.
The bottom line is that the quality and protection you get with luxury designer eyeglasses is unparalleled.
Best of all, it's not necessary to pay designer prices.
With Designer Optics, you can purchase the designer eyeglasses you want for a price that is so affordable that it makes sense to splurge on the best quality frames possible.