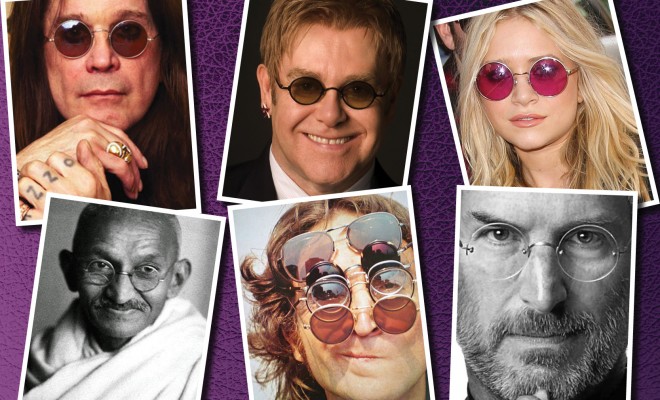 People
Sunglasses That Make the World Go 'Round
By
|
Sunglasses That Make the World Go 'Round
Once the ultimate accessory for intellectuals in academia, round eyewear frames became the fashionable item for artists in the 1960s, and for the past five decades, they have been a favorite for many fashion conscious trendsetters, as well as cinema stars and politicians.
Round frames may make you think of the vintage Windsor style of round lenses encompassed with thin gold wire worn by past generations, but round eyewear has become über-trendy in modern fashion due to infinite combinations in size, material and color.
Those who wear round sunglasses are loved for the bold look these frames create for the wearer.
Who in the World Wears Round Frames
Wear round framed prescription eyewear and sunglasses, and you may find yourself following in the footsteps of musicians such as John Lennon, Janis Joplin, Elton John, and Ozzy Osbourne, as well as leaders such as Harry S. Truman and Ghandi, the celebrities David Letterman and Johnny Depp, Mary-Kate Ashley Olsen, Nicole Ritchie, and visionaries like Steve Jobs.
Even the beloved fictional character Harry Potter wears round eyeglasses.
Round frames can be diminutive or oversized, so making the right statement in eyewear is important. Most eyewear designers offer round frames for their prescription eyeglasses and sunglasses, but you can begin your search with some of these well-known brands.
Small
Oversized
Round frames in eye-wear have long been associated with hipsters, the trendy and the intellectuals, but almost anyone can pull off the look by experimenting various styles within this shape to find the right style that flatters.
You too can wear round frames; they look fabulous on several types of face shapes. Don't give up on eyeglasses with round frames just because your face is round. Today's designers have added stylistic elements to their sunglasses that complement any face shape.
Round frames can sport a variety of unique design elements, such as double bridges, folding frames, sweat bars and even shields at the temporal corners
You'll find plenty of options to make your world go 'round!