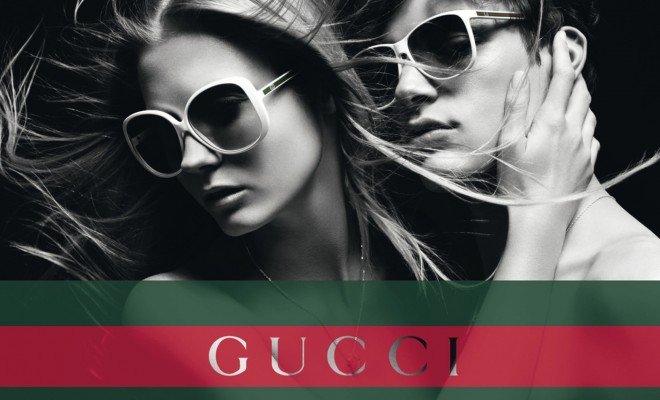 Trends
Featured Eye Wear Brand – Gucci
By
|
Featured Eye Wear Brand – Gucci
With the recent change in licensing agreements from Safilo to the new Kering, we thought it the right time to explore Gucci's rich past, as we look forward to their new eyewear ventures.
Although based out of Florence Italy, Gucci's roots extend to British nobility of the 1920's, when a young Guccio Gucci became entranced by the refinement as he waited on lords and ladies at London's Savoy Hotel. In 1921 he brought his new found love for high class and sophistication back to his hometown, opening a leather goods and small luggage store. Relying on the craftsmanship of local Tuscan artisans, he was able to build a unique brand that catered to those with a refined eye.
By the 1930's, Gucci had become a household name for the local Italian horse riding aristocrats, who stormed his small shop for the equestrian themed bag collections. This led to Gucci's development of the brands recognizable horsebit icon. This has proven to be an enduring symbol of upper crust fashion for almost a century.
While other companies fell during Italy's fascist years, Gucci used the shortage of luxury materials as a chance to expand his line using an array of other fine fabrics and materials. One such idea was burnishing cane as a handle for the collections new Bamboo Bag. This subtle addition turned an ordinary bag into one that quickly became a favorite amongst royalty and celebrity, and it remains a favorite even today.
The 1950's were a time for change in the now global fashion house. Taking a hint from the traditional saddle girth, Gucci came up with that tradition green-red-green web that we all instantly associate with the brand. In 1953, Guccio passed away, leaving his image for high society fashion in the hands of his four sons.
Gucci was everywhere in the 1960's, from the shoulder of Jackie O to the neck of Grace Kelly. Male and female celebrities coveted the brand, which had now added the interlocking double G's as part of their insignia. Their celebrity status soared them through the '70's, once again focusing on new innovations and unheard of before luxurious materials.
The first ever runway show from Gucci took place in Florence in 1981. Immediately following, the company was slowly bought by an investment company, with all of the shares finally being sold off by the beginning of the next decade. With the introduction of Tom Ford as creative director in 1994, Gucci managed to maintain its luxury brand status even with a new sense of daring in their designer collections.
That daring has successfully extended to their eyewear line, both with prescription frames and luxury sunglasses. With a mix of styles to match all personalities, Gucci transcends ordinary and jumps straight to extraordinary in their eyewear designs. See for yourself what makes Gucci such a legend. Browse through their collections and pick out a pair of high quality Gucci glasses to dress up your eyes.