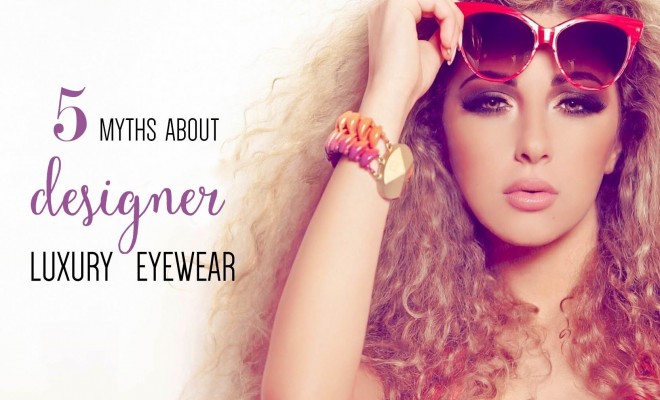 Posts
The 5 Myths About Designer Luxury Eyewear
By
|
The 5 Myths About Designer Luxury Eyewear
People notice you when you wear designer luxury eyewear.
It's that special pair of prescription or regular sunglasses that catapults you into the spotlight. You feel as important as you look in designer eyewear, and that confidence can give you an edge and help you rise up out of the crowd.
The crowd, however, has perpetuated a number of myths surrounding your designer eyeglasses.
Myth #1: You must be fabulously wealthy.
Many people think that luxury anything is really expensive. Why else would you wear luxury designer eyewear? You wear it because in the long run, it's actually less expensive that cheaper eyewear. And that wealth everyone thinks you have? With what you save on your eyewear at Designer Optics, you can tuck away the savings for your nest egg.
Myth #2: You must be a trend-follower
Purchase luxury designer eyewear and your acquaintances may accuse you of following this moment's fashion. Whatever is in this season, you're wearing it.
What some people don't realize is that the best in designer sunglasses today becomes a classic tomorrow. Collectors of vintage eyewear enjoy adding — and wearing — retro sunglasses and optical eyewear. You'll find that many of the options available today will never go out of style.
Myth #3: You must be frivolous.
Skeptics say that purchasing luxury sunglasses is a frivolity, especially when sunglasses are sunglasses. After, all every pair of sunglasses has a frame and tinted lenses for when you are outdoors.
Check those cheap sunglasses — are they polarized? Do they block UV rays? Are the lenses the right color for the activity you have in mind?
Be smart and go with the higher quality sunglasses that provide all these things and more.
Myth #4: You are flaunting a brand name.
Some people think that the whole idea of wearing a certain brand of designer luxury sunwear like Prada sunglasses or Gucci is to show off the brand.
It's like saying, "Oh look at me wearing this."
Many people, however, find that they favor a particular designer brand because it fits their interpretation of style. For example, you may prefer the feminine style of Chloe over something more masculine like Giorgio Armani. As you explore the products offered by a particular designer, you begin to see how the pieces come together, affording you a complete look.
Myth #5: You always buy the best.
Okay, this one might be the truth.
You've experienced quality designer luxury eyewear, and you've decided you like it. Buying higher end accessories may seem pricey at first, but in reality, these prescription and regular sunglasses are more affordable because they last longer than their faux counterparts.
Wearing luxury designer eyewear isn't about perpetuating a myth; it's about creating a mystique, and the luxury designer eyewear you choose for yourself can help you create yours.