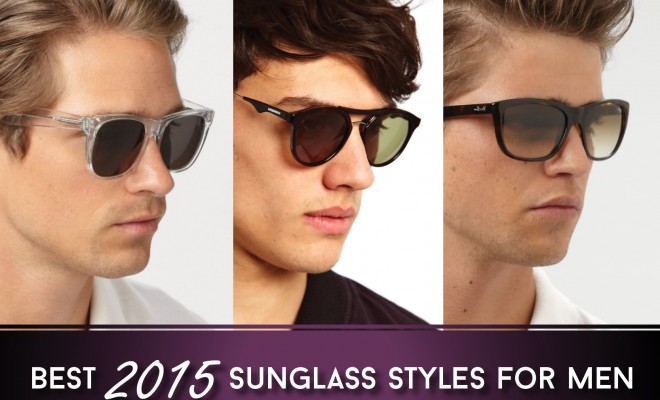 Posts
The Best 2015 Sunglasses Styles For Men
By
|
The Best 2015 Sunglass Styles For Men
Whether you are spending the morning on the green or the afternoon at the beach, a man's summer look is not complete without the right pair of shades to hide behind. Sunglasses for men can make you look as cool as 1969 Corvette no matter how high the temperatures rise. So just for you guys who love to show your stylish stuff, we have compiled a short list of the best sunglasses we've seen and been seen in for 2015:
The Year of the Mirror – The biggest trend going in sunglasses for men right now is mirrored lenses. Maybe because they encourage the girls to get up close and personal to put on their lipstick? Whatever the reason, you'll find that all of the top designers have put their own take on the mirrored lens with designer frames that have a modern flair. Take a peek at Hugo Boss' black mirrored lenses set inside a carbon colored frame. These will certainly be a start to making you look like the boss on the beach.
Versatility – For the guy who goes from the green to the office and then off to the gym, you need something versatile that fits all of your looks. Clear acetate frames with a smoked lens will make you sizzle no matter which of your many hats you have on. Calvin Klein has released a fabulous crystal clear sunglass frame for guys that suit any summertime style.
Snap and Go – Carrera makes it easy to change your summer look in a sec with a set of two distinct lightweight metal frames. Then all you have to do to go from weekday serious to weekend partier is snap out the lenses from one pair to the next. The initial order includes two sets of frames, but you can add to own personal collection for even more cool choices.
Go Retro – One of the best pairs of sunglasses for men to hit the pools this summer comes from the Giorgio Armani collection. Using a shape that throws back to the '60's, but with an obvious modern twist, Giorgio Armani easily makes it look cool to keep it classic.
The Comeback Kid – The D frame shape has made a comeback in a big way. This stylish sunglass frame for men has all the right details in all the right places, a thin wire frame encircling the bottom of the eyes, and thick acetate crossing the brow line. Gucci has been coming back into style for decades and has introduced a pair of D frames for 2015 that are to die for.
Risky Business – Ray-Ban has added a distinct new flair for their Wayfarer collection by adding natural shades of browns to their shades. This look makes you look less like a wanna-be rockstar, and more like the guy who isn't scared to step out of the sunglass box.
It's not too late to get in on the latest trends in men's eyewear for the summer. Just take a look around Designer Optics and you'll find all of these styles available in a range of different prices.