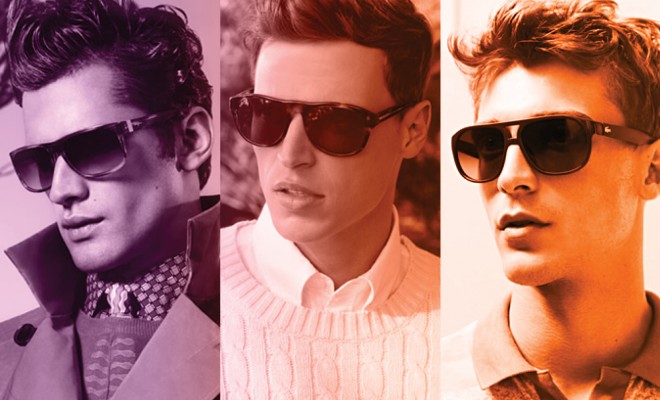 Posts
Guys: Your Sunglasses are Talking and It's Not Always Good
By
|
Guys: Your Sunglasses are Talking and It's Not Always Good
It's time for guys to realize that no matter how dark the shade, the girls are able to see right through your sunglasses. The style and colors you choose when choosing your designer sunglasses is very telling to the ladies, and gives them a heads up to the type of guy you are, before they even say hello. To make sure that you are attracting the right type of girl, you need to start thinking about what your choice in sunglasses is telling them about your personality.
Wrap-around Sunglasses
Wrap-around sunglasses certainly have their place, like on a golf course. These are great for all types of outdoor sports, and should be thought of as a piece of equipment, not exactly a fashion statement when out and about. Why? Because the first thing a girl will think is that you're too busy with sports to be a good date. Let her find out about your passion for mountain biking after you've bought her drinks and dinner.
Aviators
Designer aviators look fantastic on any guy, whether you are suited up for the beach or work. This classic look lets the girls know that you're a simple guy with simple pleasures, but with a great sense of style. They certainly worked for Maverick in getting the girl when he was a "Top Gun" and they'll work wonders for you too.
The Chunky Square Frame
This is a very distinct look in designer eyewear that can only be pulled off by a certain type of guy. Unless you are able to tone them down with casual clothes instead of layers of designer labels, you are going to come off as a bit too sure of yourself. Some girls like that, but will also think you are too cool to approach. Keep it cool with a pair of jeans and a t-shirt, and you'll be able to get a phone number or two from your designer sunglasses.
Dark Browlines
These retro sunglasses go right back to the '50's, and accounted for almost half of all eyewear sales. The look is back and just as appealing as ever, especially for the girl who is looking for a rebel without a cause. If you are hiding your eyes behind dark browline sunglasses, the smart look is going to turn the head of a lot of ladies you come across.
Round Frames – Tinted Lenses
Right off the bat, you are expressing your creative side if you choose funky round framed sunglasses with an off the wall tint. This type of self expression may be too much for the straight girl, who will be envisioning you strumming an acoustic at all hours of the night. This is a carefree fun look to wear, but only if you are looking for the girl who will be strumming alongside you.
More than your clothes, or any other accessory you may wear, your choice in designer sunglasses speaks volumes about the type of guy you are. Think about this the next time you shop for shades and decide if you want your real self to shine, or if you want to hide that behind a pair that masks the real you.