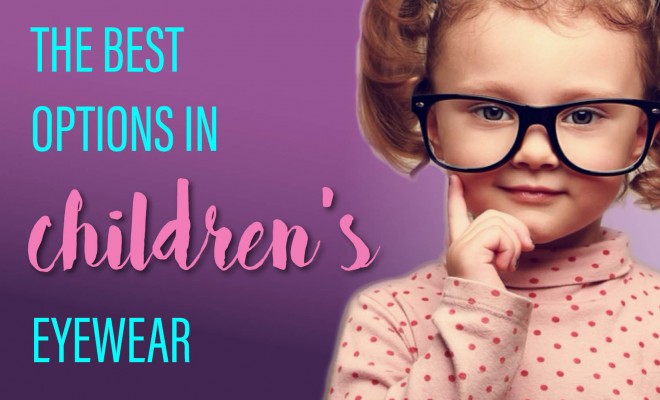 Your Eyes
The Best Options in Children's Eyewear
By
|
The Best Options in Children's Eyewear
There's a lot to consider when purchasing eyeglasses for kids.
Sure, you'll want to consider spring hinges and polycarbonate lenses, but really, what's the cool factor? Your kids may be impressed with hypoallergenic properties of stainless steel, but when considering children's eyewear, they really want to know, "How does this look?"
Children sometimes find it tough enough to wear their eyeglasses to school; the last thing they want is to be forced into eyewear that makes them feel different and less accepted than their peers.
That leaves you to figure out how to balance practical function with extreme coolness when choosing children's eyewear.
Practical Function
Frame materials are on of the first things you'll want to know about when selecting children's eyewear. The frame's composition has everything to do with durability and comfort.
Durable materials includes acetates made with zyl, and this lightweight plastic is incredibly comfortable. There are frames that are made of Flexon, which is a zyl-like metal that can withstand bending and twisting for those kids who are particularly hard on their eyewear.
It's true that spring hinges are probably the most forgiving; they will open past the ninety degree mark if forced in the opposite direction, and best of all, they spring back into their original position. Spring hinges are also the easiest for Mom and Dad to tighten when the screws begin to loosen.
Polycarbonate lenses can be the right choice if you are looking for lightweight lenses that resist scratches.
Extreme Coolness
Yes, you want eyeglasses that will last a long time, and while that's okay with your kids, they want something that looks great. Kids are adventurous when trying new things, and you may find them more open to wearing bright colors you wouldn't wear.
They may also favor the styles of eyewear their heroes wear. Designers of children's eyewear know this, and they fashion their eyeglasses after similar styles worn by Clark Kent or Harry Potter. After all, the purpose of having eyeglasses is to have improved vision, but if kids don't wear their new eyeglasses, they definitely won't see better.
Children's eyewear is great only when it's worn. It does little good in the back drawer of a desk or in a book bag. Getting the right kind of eyewear – the cool kind – for your child may mean the difference between hiding the eyeglasses and wearing them proudly.
Designers like Lacoste and Ralph Lauren offer beautiful eyeglasses for children. You can find traditional looking frames that sport stylish color your kids will love, and you may be as pleased with the prices as you are the selections and options for your children's eyewear.