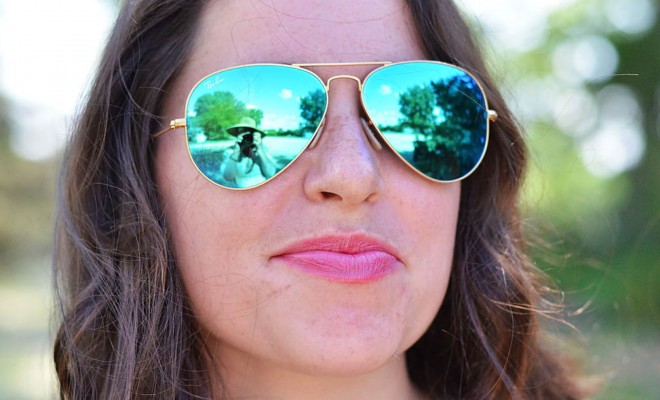 Trends
The Glitter of Gold in Luxury Designer Sunglasses
By
|
The Glitter of Gold in Luxury Designer Sunglasses
While soft colors are all the passion for this season, the favored metal that complements them is gold.
Because of its received rarity, gold has been a popular choice in fashion for quite some time in the world of party and gala event decorating, and fashion is no different. Gold can be an exciting accent when used for accessories, and designers are creating luxury designer sunglasses using gold metal.
You'll find gold appearing as the main metal color in optical eyewear and sunglasses frames, and it also makes a spectacular accent or embellishment when combined with other materials. Gold really stands out in luxury designer sunglasses.
Luxury designer eyewear from Kenneth and Ray Ban have some of the best gold frames, especially in aviator style frames. The Kenneth Cole New York  KC 7029 Sunglasses 33G in gold are a contemporary interpretation of traditional pilot style sunglasses.
Even Ray Ban, the creator of the original aviator sunglasses, has redefined the look of this favorite with the Ray Ban RB 3025 Aviator Large Metal Sunglasses 001/3E in gold. The metal gold frames are lighter, and so are the lenses, which makes for a light and comfortable look.
For luxury designer sunglasses with the right amount of gold accents, try the DKNY DY 5081 Sunglasses 118913 in gold. This brand, Donna Karan New York, offers you shieldstyle frames accented at either temporal corner with pale gold hardware that attaches dark acetate temporal arms of havana print to the brown gradient lenses.
Not every designer creates frames that are blatantly gold. Fendi offers the Fendi FD 0133 Sunglasses 0NPQ in red crystal, with clear acetate temporal arms encasing sleek gold arms. The look is subtle and inviting because of the way the frames counterbalance the arms. Is it the gold that makes a difference? It's possible.
A variation of gold that is as sought after this year as it was last year is rose gold. The warm tones of copper subdue the brightness of gold, giving it a softer appeal.
For some real fun, try the Jimmy Choo JCH Andie Sunglasses 0J7Q in rose gold and shiny black. These throwback round frames may remind you of times gone by, but they also give a nod to the popular steampunk style of today. Without the soft rose gold, the effect of the black frames would be too harsh.
Not all that glitters is gold, but when you try on your gold luxury designer sunglasses, you'll love how they catch the light and glitter, radiating with the warmth of the sun.