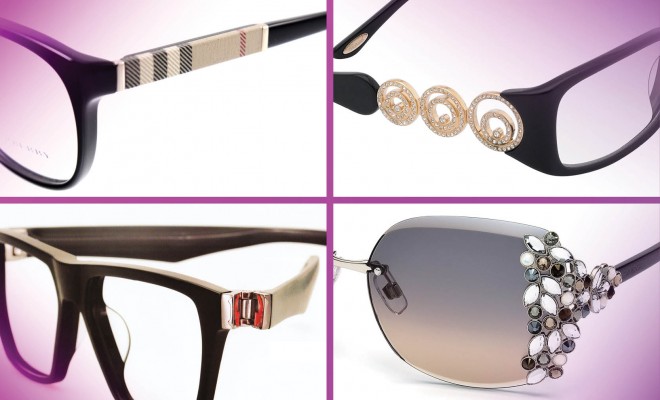 Posts
The Temples Have It
By
|
The Temples Have It
Go ahead, try on your new frames.
You're probably gauging how they look on the front of your face. You might even turn from one side to the other, checking out how the frames sit on your face, but ultimately, you check how your glasses look fro the front.
You may be missing the greatest style opportunity of all – that chance to add distinctive elements to the sides of the eyewear frames. What about the temples?
That's right, the temples of your optical eyewear or sunglasses frames provide you with the opportunity to add a little style to your eyeglasses. With the new technologies and lightweight materials available to you in your frames, you have plenty of choices for temporal design.
Special looks in eyewear
Many fashion houses have seized the opportunity to stylize the temporal arms of their eyewear frames. Here is a mention of but a few:
Burberry – With a nod to the traditional design of Burberry plaid, eyewear from this house sports the plaid pattern on the temporal arms, either in narrow bands near the temporal corners or as part of the larger design.
Versace – This design house misses no opportunity to brand its creations. Here you will find wrought metal arms, crystal inserts, and stamped designs in the temporal designs.
Persol – Inlaid bands of silver set off a distinctive look that adds panache to the frames and overall appearance.
Swarovski – For real bling, try frames with crystal studded temporal arms. No one does it better – or more elaborately – than this design house.
Ralph Lauren – For classic looks that seem to never go out of style, look to Ralph Lauren for two-tone temporal arms and subtle experimentation with patterns, especially on the inside of the arms.
Temporal arm design is more than just a fashion statement. Today's sunglasses and optical eyewear must also be highly functional, and the temporal arms have seen a redesign in this area.
Dragon – Look for the dragon wings inside the hinges at the temporal corners. You can only see them when the arms are folded in, but you will be sure to notice the red dragon wings.
Juicy Couture – This trendy brand of eyewear offers interchangeable temples so that you can swap out the temporal arms according to your wardrobe or your mood.
Ray Ban – Tired of your glasses always takings up too much room in a pocket or a purse? Try out some of the foldable styles from this favorite brand of sunglasses and optical eyewear.
From intricate designs that reflect your personality and style to temporal arms that lend added functionality, the temples really do have all the design attributes you may need. So the next time you try on a pair of frames, check out the temporal frames, too.