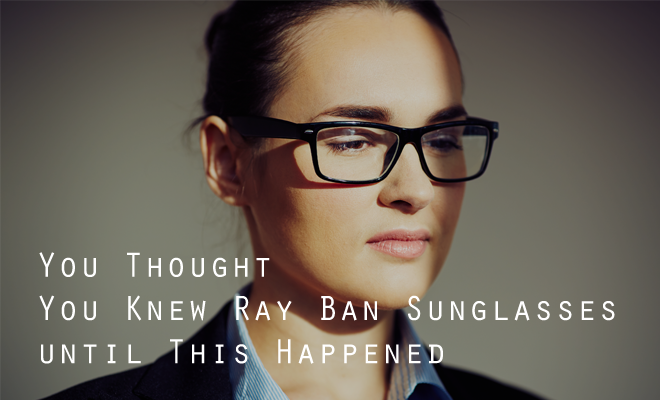 Trends
You Thought You Knew Ray Ban Sunglasses until This Happened
By
|
The coolest sunshades in anyone's collection of sunglasses are classic Ray Ban's. For nearly one hundred years, Ray Ban has provided you with the sunglasses you need for everything you do outdoors.
It all began with those iconic aviators, and it's likely that you have a pair of those babies. They are a favorite of many on-the-go jet setters and weekend sports enthusiasts alike. You can't help but like them. The lightweight frames feel comfortable and the large lenses give you the eye coverage and protection you need.
From there, Ray Ban developed the Wayfarer frame, that easily recognizable shape that marks your attitude as edgy and daring. The frames are styled at just enough of an angle to give you the look of a renegade. To be sure, it's subtle, but it's there. These frames have long been favorites among artists and musicians.
The other pair of Ray Ban sunglasses you probably have in your collection is the Clubmaster. These sunglasses give the Wayfarer a gentrified look, with acetate frames and wire rims. You still get a distinctive look that can only be Ray Ban.
Since these first three styles became available, Ray Ban sunglasses has reinvented these iconic designs for you in a variety of ways. The frames have been embellished with brow bars and double bridges, and classic shapes have been resized to fit your face the right way.
One of the most popular newer offerings in the Ray Ban line up consists of prints — fabulous pop culture designs in the acetate frames. Each release has become a highly collectible pair of sunglasses, and Ray Ban aficionados snap them up as quickly
Even the materials your Ray Ban sunglasses are made from have been reimagined since those early days of Ray Ban eye protection.
You've always been able to get your hands on Ray Ban sunglasses made from metal or fine acetates. Those first aviator style sunnies were metal, and the Wayfarers were plastic. Since then, newer materials have included wood and aluminum.
The wood frame is an important choice for those who like to make conscientious eco-choices about their purchases. Wearing sunglasses made from this sustainable material can be the right choice for anyone who like a lightweight and eco-friendly frame. Aluminum, too is a lightweight choice for many Ray Ban fans, and the nice thing is that aluminum is sturdy enough to hold its shape.
If you're looking to combine the best of both worlds, take a look at what Ray Ban offers now — aluminum Clubmasters. These special frames create an urban chic look that will make you covet these sunnies all the more, but you'll want to wear them because they are so comfortable.
Now you know Ray Ban sunglasses.