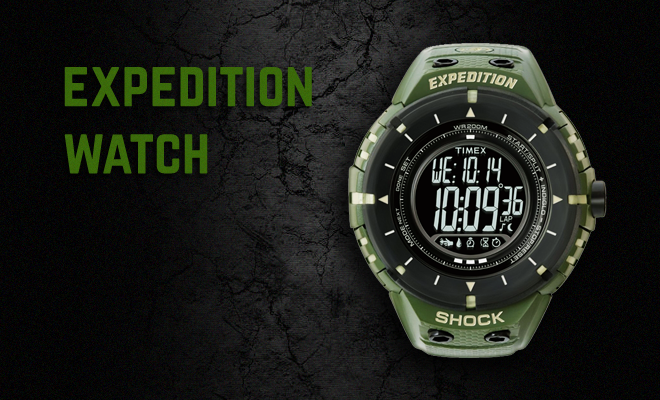 Trends
The Timex Expedition Watch Collection Celebrates Unprecedented Ruggedness
By
|
The Timex Expedition Watch Collection Celebrates Unprecedented Ruggedness
Wearing a wristwatch is convenient.
Unlike when you carry a mobile phone, you don't have to worry where you last set down your classic wristwatch or if you just sat on it. Your watch stays on your wrist for easy access to the time. You don't have to recharge it, and if you have a timepiece from the Timex Expedition Watch Collection, you won't have to worry about getting it wet, either.
You want your watch to go the extra mile with you, wherever that mile happens to be, whether you're jogging along a beach in Belize or tracking wild game across the tundra. It should be accurate regardless of the hemisphere you find yourself in, and it should be easy to use.
Regardless of the expedition you find yourself on, you're going to want the TImex Expedition watch collection on your side. The expedition watches are ready to go anywhere and keep time for you, but they also do so much more.
The Timex Expedition Watch Collection offers you an incredible array of functions for your timekeeping needs in the wilderness. These include, alarms, a chronograph, compass, countdown timer, date feature, lap timer, time zone tracker and nightlight by which to read your watch.
You also have an extensive selection of sizes and color combinations from which to choose.
The bands on the wristwatches can be nylon, plastic or leather, allowing you to choose the material that's right for your outdoor activities. Timex wants this watch to be a part of all your travels and expeditions.
Every watch in the Timex Expedition Watch Collection had been designed for ruggedness and precision timekeeping.
Are you worried about how hard you are on a timepiece? Try the Timex T49612JV Expedition Digital Compass Watch. This rugged masterpiece lives up to the Timex motto, "Takes a licking and keeps on ticking." This watch is meant to be outdoors with you. It's water resistant to 200 meters, and most importantly, it's also shock resistant.
That means the features you love about it, like the digital compass, the Indieglo dial, and the digital chronograph functions will keep working in spite of anything you can throw at this watch, or throw this watch into.
The matte finish is a favorite of hunters and other sportsmen who don't want to reveal their location, or for orienteers who find location to be everything.
The Timex Expedition Watch Collection is available in both analog and digital versions. Regardless of the watch style you select, you'll have a timepiece that is expedition ready, no matter where your rugged life takes you.