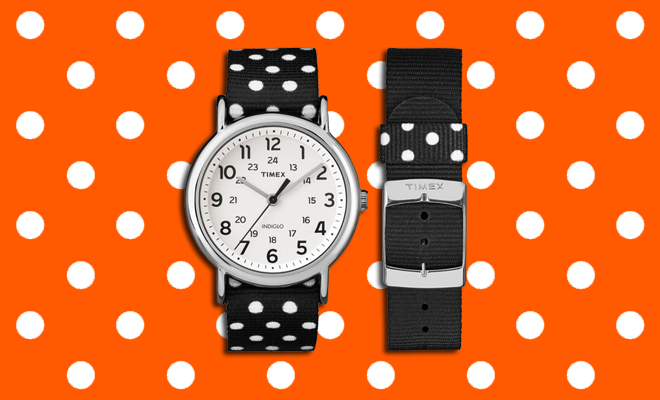 Posts
The TImex Weekender Watch is the Only Timepiece You Need
By
|
Are you one of the many people with several — or maybe even dozens — of watches? Choosing your daily timepiece can be a chore if you are forced to sacrifice readability for design or style for durability.
That's especially true if you have one watch you love to wear, but the wrist band prevents you from wearing it with professional or semi-formal attire. Timex changes all that with the TImex Weekender Watch.
The Timex Weekender Watch is a brilliantly simple design meant to make reading the time as easy as glancing at your wrist Timex also understands, though, that the wristwatch you wear almost daily has to wear well and look good, too.
Celebs like Stephen Amell from Arrow know how well the Weekender can fit the need for style and function; this is his watch of choice.
You'll find great style and function in every Timex Weekender Watch. For example, the Timex TW2P86600JV Weekender Reversible Polka Dot Watch is a fresh take on a classic design. It features a white face with easy to read black Arabic numbers and the Indieglo feature that has made Timex famous. The black and white polka dot wristband adds timeless and fun style to the watch. Best of all, this watch band is reversible. Wear the all black side if the polka dots are too much.
In fact, the Timex Weekender Watch is known for its adaptability in any fashion situation. When you make your first Weekender purchase, select the face style you love — and there's a chronograph version as well — and opt for the band style or color that you think you'll wear the most often. Choose from nylon (solid or print), suede or leather to accessorize your watch to your lifestyle, moment by moment.
Once you find a watch style you love and one that works with your lifestyle, it's easy to adapt your timepiece to any situation, regardless of how formal or dressy. Simply change the wristband on the Timex Weekender Watch. Every weekender watch band slides easily into position to hold your watch, and in less time than it takes to adjust your tie, your watch has a new look and is ready to go.
Build your watch wardrobe of fashion wrist bands, and you'll have a Weekender that may quickly become your favorite Weekday watch.  (These wrist bands make welcome gifts, by the way!)
The Timex Weekender Watch is where function, versatility and style come together at one crossroads. The cool thing is that you get to decide what that crossroads looks like and how you'll adapt it to your own lifestyle.