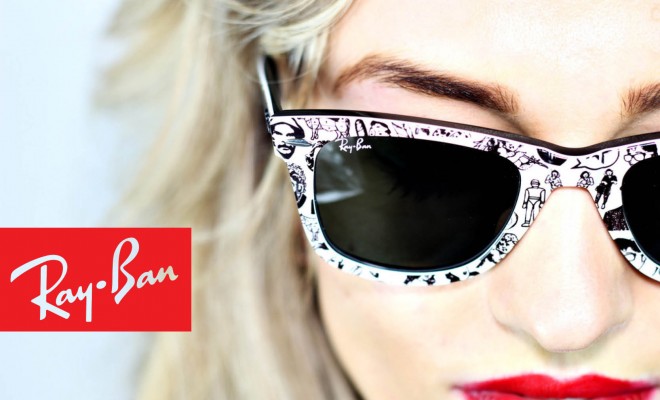 Trends
You Can Never Hide When You Wear Ray Ban Sunglasses in Rare Prints
By
|
You Can Never Hide When You Wear Ray Ban Sunglasses in Rare Prints
"Never hide" is the Ray Ban sunglasses slogan for their most highly coveted eyewear.
Ray Ban sunglasses in rare prints are a hot trend in fun outdoor eyewear. Imagine combining the edgy and iconic Wayfarer frame with bold patterns, vibrant splashes of color and the elite coolness that only Ray Ban can provide you – multiplied to the max.
The limited edition prints on these designer sunglasses are created by pop culture artists such as Matt Moore and David Sossella or studio designers such as La Boca
These are some of the rare prints available in the Ray Ban sunglasses rare prints collections.
NYC Metro – Keep the city close to your heart. These uber-cool Ray Ban sunglasses sport black frames on the outsides and subway maps on the inside.
Fleck – Do you prefer a more natural pattern? Black temporal arms support these rare prints frames designed in tortoise patterns of blue, green, gray and brown.
Denim – Nothing beats a great pair of casual blue jeans, and Ray Ban has captured the look with these sunglasses. Casual comfort, trendy style.
Ice Cream — Warm weather is perfect for designer sunglasses and creamy ice cream in yummy fruit flavors and mint pastels. Wear the tutti-frutti colors of ice cream with these sunglasses.
Comics – Show your support of humor with these sunglasses; several of the designs in comics may include some of your favorite characters.
Button Pins – Take a second look at these, or you may mistake the print for milliflore. The shapes are tiny buttons in as many colors as you might find in a coloring cox.
Stripes – The bold look of zebra and wild colors create sunglasses that stand out in any crowd.
Flowers – Tiny blossoms adorn the frames of these spring and summer-like sunglasses.
Color Blocks – Large blocks of bold color make up the frames and temporal arms.
Patchwork – Get you 80s preppie groove on with sunglasses that mimic the madras print made famous during this decade.
Surf Up – This print combines tropical prints on the inside of the frames with either red, black or a second print simulating wood on the outside. These sunglasses will remind you days spent catching a wave and having, "Fun, fun, fun . . . ."
You'll find similarities such as lustrous glossy finishes and Luxottica quality in every series of rare prints Ray Ban sunglasses. These high-end touches and the trendy designs ensure that most of these unique sunglasses sell out quickly each year.
Act fast and you'll be raring to go with rare print Ray Bans and the red case they come in. There's no way to hide in these lively Ray Ban sunglasses; you won't want to!