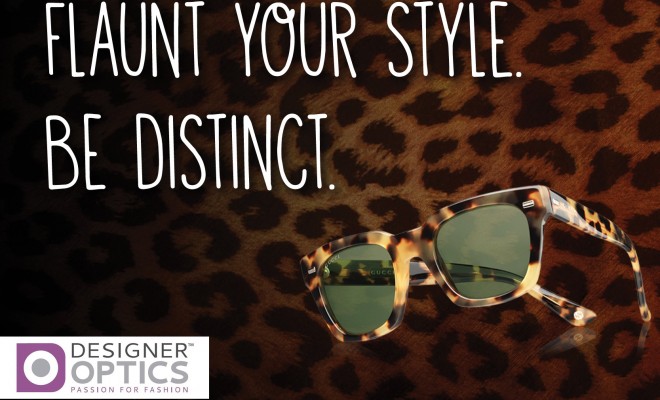 Posts
5 Distinctions That Showcase Your Sunglasses Style
By
|
5 Distinctions That Showcase Your Sunglasses Style
Sunglasses are no longer just a beach accessory. With an understanding of UV rays and the damage they can cause to our vision, sunglasses have become a year round must have. Not to mention that they can help turn a great ensemble into a show stopping one. There are 5 distinctions in designer sunglasses that can help you pull together a fashionable look, no matter what time of year it is.
Color – Wire rimmed frames, frameless rims and clear acetates help to disguise the fact that you are wearing glasses. Accent colors make them stand out on your face, allowing you to make a bold statement in a subtle way. Don't be afraid to take on a bright hue with your sunglass frames, especially if you want them to help define your personal style.
Black frames are always a classic, but don't be afraid to try out shades of blue, green and even red frames with your sunglasses. Bursts of color around the eyes highlight a fun personality that's not afraid to take some risks.
Detailing – With some sunglasses, it is all in the simple details that allow for them to pop out on your face. Prada is one brand that is known for taking a simple sunglass frame and making it sensational, simply by adding feminine curves to the temples. These powerful sunglasses come in a variety of colors and designs, making it simple to find a pair that matches your taste.
If intricate detailing seems like too much for you, look for sunglasses with more subtle details like two tone temples or small stones on the corners. These tiny touches will make a big difference in how your sunglasses look.
Havana – A staple sunglass frame, Havana and tortoise colors blend together several shades of brown with black to create a look that is kinder than the harsh all black frame. Your natural coloring is highlighted with this style frame, while the warm tones make it a perfect complement to both warm and cold weather ensembles.
You can kick the Havana up a notch with lenses of a different color. Stick with a natural tone like light green or copper, to bring out the coloring of the frames even more.
Shaping – The shape of the lens says a lot about the person hiding behind them. Cats-eye are a classic shape that give a hint of smart sophistication, while the oversized aviator from Ray-Ban makes you look and feel as cool as a cucumber. Frame shapes should be chosen to accent the features of your face, not compete with them.
Active Eyewear – Whether out for a jog, or riding on your hog, sunglasses should suit your active lifestyle. Sports sunglasses come in all shapes and sizes, with special features that protect your eyes. Many brands, such as Oakley, have managed to take those important features and combine them with sunglass frames that don't make you look like a jock.
Sunglasses inspire you to take risks with your look, giving you hundreds of variations to choose between. Stock up on different colors and styles, and you'll have a pair on hand to meet any occasion.